About Us
The Museology team is comprised of experienced museum professionals and craftsmen with the skills to create opportunities as unique and creative as the local history groups we work with.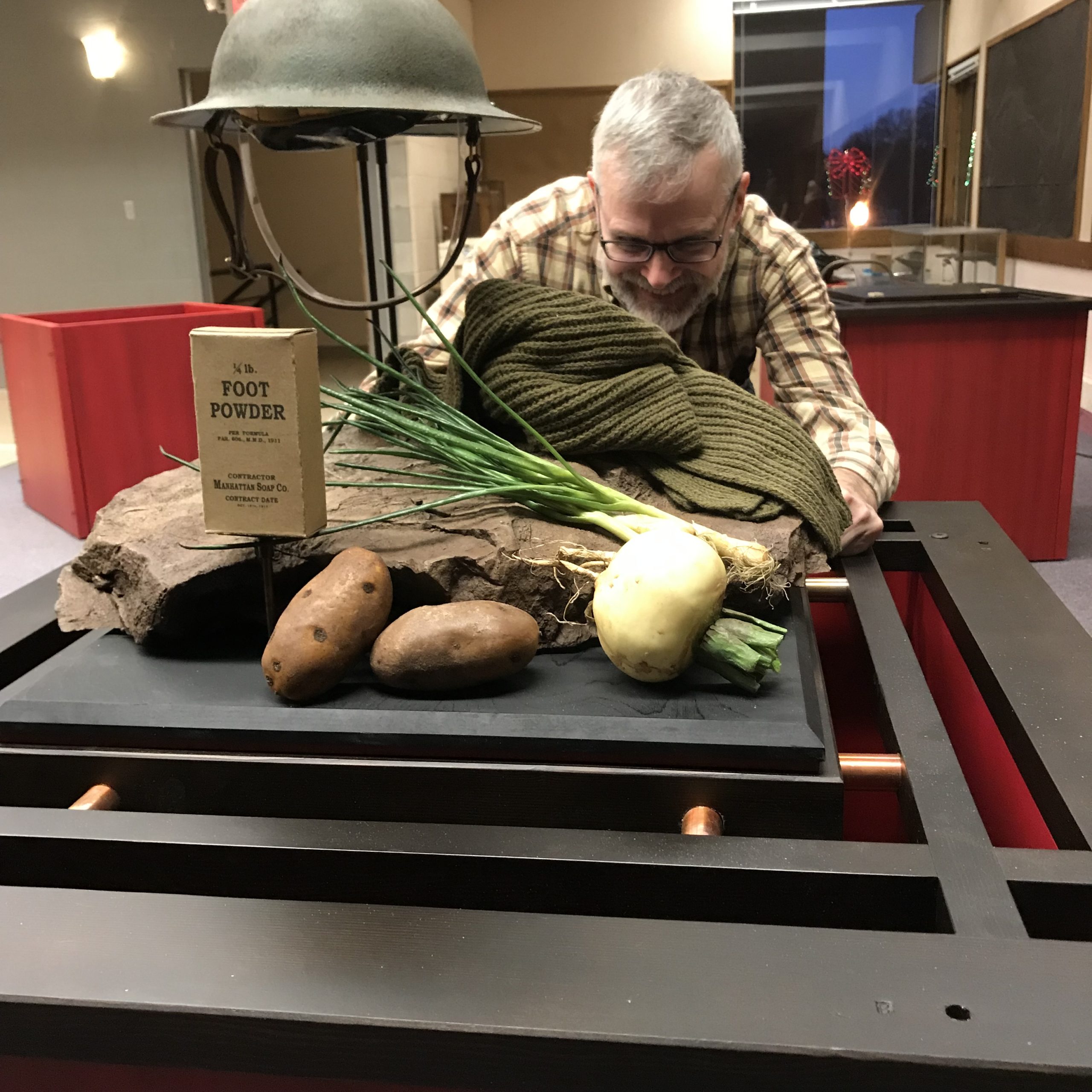 Larry Hutchings
Creative Director & Senior Craftsman
Larry wants museum visitors to engage deeply with exhibits intellectually and emotionally. Exhibit design can draw people into exhibit content, where they can be amazed, comforted, or provoked.
With over 35 years of experience, Larry leads Museology's team of expert designers and crafts-people to create dynamic museum experiences. He has taught workshops for the Minnesota Historical Society, Minnesota Alliance of Local History Museums, Minnesota Association of Museums, Association of Midwest Museums, American Alliance of Museums, and American Association for State and Local History on exhibit design and fabrication, children's exhibits, construction techniques, and in-house exhibit building. He was the editor for Alliance for the Millennium Collections Initiative Collections Management Manual, a compendium of best practices for museum documentation. Larry holds a Bachelor of Arts in Music Performance from University of Minnesota, Morris.
Tom Church
Managing Director & Senior Exhibit Developer
Tom believes that exhibits should inspire and challenge visitors. He conducts story-driven research, and drafts scripts intended to pique a reader's curiosity. He has led the Interpretive Planning process for more than a dozen local history organizations, and his research on St. Paul's Trout Brook neighborhood was honored with a 2015 St. Paul Heritage Preservation Award. He has also been a regular presenter for the Minnesota Alliance for Local History Museums. Before joining the world of museum professionals, Tom taught first grade, coached high school runners and skiers, and worked as an attorney. He earned a B.A. in History from Carleton College and a J.D. from the University of Minnesota.
Bret Pearson
Research Director & Storyteller
Bret is one of the founders of Museology and a 6th generation Minnesotan. He has his ancestor's curiosity about how things work and a plow-horse tenacity inherited from generations who farmed in rocky soil. His superpower is rebuilding fascinating fact-based stories and voices. He has a Bachelor's degree in Spanish Language and Middle Eastern studies from the University of Texas.
Andrea Woodberry
Exhibit Developer
Andrea is an emerging museum professional with diverse experience in research, interpretation, and museum education. Andrea holds a Master of Arts in Museum Education from Tufts University and a Bachelor of Arts in History with minors in Museum Studies and French from Luther College.